sling accessories
1: All forged by alloy steel
2: heat treatment processed by arts of heat treatment
3: small size, high strength
D-shackle (international standard)

| | | | | | | | |
| --- | --- | --- | --- | --- | --- | --- | --- |
| working load limit | A | B | C | D | E | F | G |
| TON | mm | mm | mm | mm | mm | mm | mm |
| 0.3 | 16 | 10 | | 8 | | | 45 |
| 0.5 | 20 | 12 | | 10 | 40 | 23 | 50 |
| 0.9 | 24 | 16 | | 12 | 48 | 29 | 60 |
| 1.4 | 32 | 20 | | 16 | 64 | 38 | 80 |
| 2.1 | 36 | 24 | | 20 | 76 | 46 | 90 |
| 2.7 | 40 | 27 | | 22 | 80 | 48 | 100 |
| 3.3 | 45 | 30 | | 24 | 95 | 58 | 110 |
| 4.1 | 50 | 33 | | 27 | 106 | 63 | 120 |
| 4.9 | 58 | 36 | | 30 | 118 | 70 | 130 |
| 6.8 | 64 | 42 | | 36 | 136 | 77 | 150 |
| 9.5 | 70 | 50 | | 40 | 150 | 90 | 170 |
| 10.7 | 80 | 52 | | 45 | 170 | 97 | 190 |
| 16 | 100 | 64 | | 52 | 204 | 120 | 204 |
| 20 | 105 | 65 | 72 | 52 | 225 | 120 | 218 |
| 25 | 110 | 70 | 72 | 52 | 226 | 130 | 238 |
| 30 | 115 | 76 | 80 | 55 | 235 | 135 | 260 |
| 32 | 125 | 80 | 90 | 60 | 261 | 145 | 310 |
| 40 | 125 | 86 | 96 | 64 | 265 | 155 | 315 |
| 50 | 132 | 96 | 107 | 72 | 292 | 175 | 330 |
| 60 | 135 | 103 | 117 | 78 | 307 | 185 | 366 |
| 75 | 145 | 106 | 120 | 80 | 325 | 190 | 392 |
| 80 | 166 | 112 | 126 | 84 | 345 | 200 | 438 |
| 100 | 176 | 123 | 141 | 94 | 384 | 225 | 473 |
| 140 | 190 | 145 | 165 | 110 | 430 | 265 | 520 |
| 150 | 196 | 148 | 186 | 120 | 456 | 270 | 543 |
| 200 | 246 | 165 | 195 | 130 | 526 | 300 | 628 |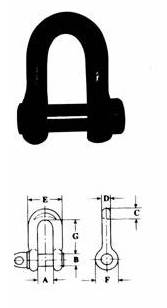 American standard bow type shackle (G210)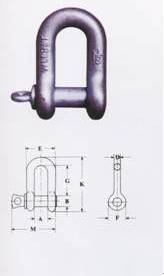 | | | | | | | | | | | |
| --- | --- | --- | --- | --- | --- | --- | --- | --- | --- | --- |
| type | rated load | A | B | D | E | F | G | K | M | weight |
| in | Ton | mm | mm | mm | mm | mm | mm | mm | mm | kg |
| 1/4 | 0.50 | 12.0 | 7.9 | 6.4 | 23.9 | 15.5 | 22.4 | 40.4 | 35.1 | 0.05 |
| 5/16 | 0.75 | 13.5 | 9.7 | 7.9 | 29.5 | 19.1 | 26.2 | 48.5 | 42.2 | 0.08 |
| 3/8 | 1.00 | 16.8 | 11.2 | 9.7 | 35.8 | 23.1 | 31.8 | 58.4 | 51.6 | 0.13 |
| 7/16 | 1.50 | 19.1 | 12.7 | 11.2 | 41.4 | 26.9 | 36.6 | 67.6 | 60.5 | 0.20 |
| 1/2 | 2.00 | 20.6 | 16.0 | 12.7 | 45.0 | 30.2 | 41.4 | 77 | 68.3 | 0.27 |
| 5/8 | 3.25 | 27.0 | 19.0 | 16.0 | 58.7 | 38.1 | 50.8 | 95.3 | 84.8 | 0.57 |
| 3/4 | 4.75 | 31.8 | 22.4 | 19.1 | 69.9 | 46.0 | 60.5 | 115.1 | 100.8 | 1.9 |
| 7/8 | 6.50 | 36.6 | 25.4 | 22.4 | 81.0 | 53.1 | 71.4 | 135.4 | 114.8 | 1.43 |
| 1 | 8.50 | 43.0 | 28.7 | 25.4 | 93.7 | 60.5 | 81.0 | 150.9 | 128.8 | 2.15 |
| 11/8 | 9.50 | 46.0 | 31.8 | 28.7 | 103.1 | 68.3 | 90.9 | 172.2 | 142.0 | 3.06 |
| 11/4 | 12.0 | 51.6 | 35.1 | 31.8 | 115.1 | 76.2 | 100.1 | 190.5 | 156.5 | 4.14 |
| 13/8 | 13.5 | 57.2 | 38.1 | 35.1 | 127.0 | 94.1 | 111.3 | 210.3 | 173.7 | 5.28 |
| 11/2 | 17 | 60.5 | 41.4 | 38.1 | 136.6 | 91.9 | 122.2 | 230.1 | 186.7 | 7.23 |
| 13/4 | 25 | 73.2 | 50.8 | 44.5 | 162.1 | 106.4 | 146.1 | 278.6 | 230.6 | 12.13 |
| 2 | 35 | 82.6 | 57.2 | 50.8 | 184.0 | 122.2 | 171.5 | 311.9 | 262.6 | 19.19 |
| 21/2 | 55 | 105.0 | 69.9 | 66.5 | 238.3 | 144.5 | 203.2 | 376.9 | 330.2 | 32.55 |
American standard bow type shackle (2150)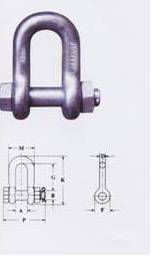 type

Rated
load

A

B

D

E

F

G

K

M

weight

in

Ton

mm

mm

mm

mm

mm

mm

mm

mm

kg

1/2

2

20.6

16.0

12.7

30.2

41.4

77.0

46.1

71.1

0.34

5/8

3.25

26.9

19.1

16.0

38.1

50.8

95.3

58.7

89.7

0.67

3/4

4.75

31.8

22.4

19.1

45.0

60.5

115.1

70.0

103.4

1.14

7/8

6.50

36.6

25.4

22.4

53.1

71.4

135.4

81.0

119.6

1.75

1

8.5

42.9

28.7

25.4

60.5

81.0

150.9

93.7

134.9

2.52

11/8

9.5

46.0

31.8

28.7

38.6

90.9

172.2

103.1

149.9

3.45

11/4

12.0

51.6

35.1

31.8

76.2

100.0

190.5

115.1

165.4

4.90

13/8

13.5

57.2

38.1

35.1

84.1

111.3

210.3

127.0

183.1

6.24

11/2

17.0

60.5

41.4

38.1

92.2

122.2

230.1

136.7

196.3

8.39

13/4

25.0

73.2

50.8

44.5

106.4

146.1

278.6

162.1

229.8

14.24

2

35

82.6

57.2

50.8

122.2

171.5

311.9

184.2

264.4

21.20

21/2

55

104.9

70.0

66.5

144.5

203.2

377.0

238.3

344.4

38.56

3

85

127.0

82.6

76.2

165.1

215.9

428.8

279.4

419.1

56.36

31/2

120

133.4

95.3

91.9

203.2

-

-

-

482.6

-

4

150

139.7

108.0

104.1

228.6

-

-

-

501.7

-
American standard bow type shackle (209)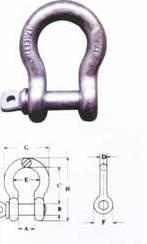 Type

Rated
load

A

B

C

D

E

F

G

H

weight

in

Ton

mm

mm

mm

mm

mm

mm

mm

mm

kg

3/16

0.33

9.7

6.4

22.4

4.8

15.2

14.2

24.9

37.3

0.03

1/4

0.50

11.9

7.9

28.7

6.4

19.8

15.5

32.5

46.7

0.05

5/16

0.75

13.5

9.7

30.9

7.9

21.3

19.1

37.3

53.1

0.09

3/8

1.0

16.8

11.2

36.6

9.7

26.2

23.1

45.2

63.2

0.14

7/16

1.5

19.1

12.7

42.9

11.2

29.5

26.9

51.6

73.9

0.17

1/2

2.0

20.6

16.0

47.8

12.7

33.3

30.2

58.7

83.3

0.33

5/8

3.25

26.9

19.1

60.5

16.0

42.9

38.1

74.7

106.4

0.62

3/4

4.75

31.8

22.4

71.4

19.1

50.8

46.0

88.9

126.2

1.07

7/8

6.50

36.6

25.4

84.1

22.4

57.9

53.1

102.4

148.1

1.64

1

8.5

42.9

28.7

95.3

25.4

68.3

60.5

119.1

166.6

2.28

11/8

9.5

45.0

31.8

108.0

29.5

73.9

68.3

131.1

189.7

3.36

11/4

12.0

51.6

35.1

119.1

32.8

82.6

76.2

146.1

209.6

4.31

13/8

13.5

57.2

38.1

133.4

36.1

92.2

84.1

162.1

232.7

6.14

11/2

17.0

60.5

41.4

146.1

39.1

98.6

92.2

174.8

254.0

7.80

13/4

25.0

73.2

50.8

177.8

46.7

127.0

106.4

225.0

314.4

12.60

2

35

82.6

57.2

196.9

52.8

146.1

122.2

253.2

347.5

20.41

21/4

55

104.9

69.9

266.7

68.8

184.2

144.5

326.9

453.1

38.90
American standard bow type shackle (2130)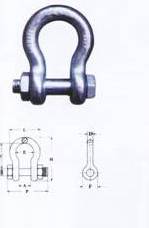 | | | | | | | | | | | | |
| --- | --- | --- | --- | --- | --- | --- | --- | --- | --- | --- | --- |
| type | Rated load | A | B | C | D | E | F | H | L | P | weight |
| in | Ton | mm | mm | mm | mm | mm | mm | mm | mm | mm | kg |
| 1/2 | 2 | 20.6 | 16.0 | 47.8 | 12.7 | 33.3 | 30.2 | 83.3 | 58.7 | 71.1 | 0.36 |
| 5/8 | 3.25 | 26.9 | 19.1 | 60.5 | 16.0 | 42.9 | 38.1 | 106.4 | 74.7 | 89.7 | 0.76 |
| 3/4 | 4.75 | 31.8 | 22.4 | 71.4 | 19.1 | 50.8 | 45.0 | 126.2 | 88.9 | 103.4 | 1.23 |
| 7/8 | 6.50 | 36.6 | 25.4 | 84.1 | 22.4 | 57.9 | 53.1 | 148.1 | 102.4 | 119.6 | 1.79 |
| 1 | 8.5 | 42.9 | 28.7 | 95.3 | 25.4 | 68.3 | 60.5 | 166.9 | 119.1 | 134.9 | 2.57 |
| 11/8 | 9.5 | 46.0 | 31.8 | 108.0 | 28.7 | 73.9 | 68.3 | 189.7 | 131.1 | 149.9 | 3.75 |
| 11/4 | 12.0 | 51.6 | 35.1 | 119.1 | 31.8 | 82.6 | 76.2 | 209.6 | 146.1 | 165.4 | 5.31 |
| 13/8 | 13.5 | 57.2 | 38.1 | 133.4 | 35.1 | 92.2 | 84.1 | 232.7 | 162.1 | 183.1 | 7.18 |
| 11/2 | 17.0 | 60.5 | 41.4 | 140.1 | 38.1 | 98.6 | 92.2 | 254.0 | 174.8 | 196.3 | 9.43 |
| 13/4 | 25.0 | 73.2 | 50.8 | 177.8 | 44.5 | 127.0 | 106.4 | 313.4 | 225.0 | 229.8 | 15.38 |
| 2 | 35 | 82.6 | 57.2 | 196.9 | 50.8 | 146.1 | 122.2 | 347.5 | 253.2 | 264.4 | 23.70 |
| 21/2 | 55 | 104.9 | 70.0 | 266.7 | 66.5 | 184.2 | 144.5 | 453.1 | 326.9 | 344.4 | 44.57 |
| 3 | 85 | 127.0 | 82.6 | 330.2 | 76.2 | 200.2 | 165.1 | 546.1 | 364.7 | 419.1 | 69.85 |
| 31/2 | 120 | 133.4 | 95.3 | 371.6 | 91.9 | 228.6 | 203.2 | 625.6 | 419.1 | 482.6 | 120.2 |
| 4 | 150 | 139.7 | 108.0 | 368.3 | 104.1 | 254.0 | 228.6 | 652.5 | 467.9 | 501.7 | 153.32 |

Goat horns slide hook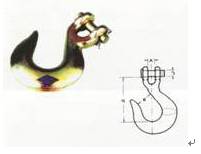 chain diameter
in

Rated load

A

B

C

D

Weight

H-331

A-331

in

in

in

in

Lbc/pc

1/4

1950

2750

0.44

0.94

0.38

2.56

0.50

5/16

2870

4300

0.50

1.06

0.44

2.87

0.75

3/8

4000

5250

0.59

1.31

0.47

3.25

1.20

7/16

5000

7000

0.66

1.56

0.56

3.70

2.06

1/2

6500

9000

0.75

1.69

0.63

4.00

2.80

5/8

9250

13500

0.91

2.00

0.75

4.94

4.75

3/4

12500

19250

1.31

2.50

1.00

6.09

10.30
Goat horns slide hook (with insurance card )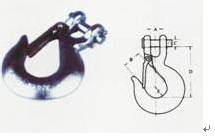 chain diameter
in

Rated load

A

B

C

D

E

Weight

H-331

A-331

in

in

in

in

in

Lbc/pc

1/4

1950

2750

0.44

0.79

0.38

2.56

0.79

0.52

5/16

2870

4300

0.50

0.93

0.44

2.87

0.79

0.77

3/8

4000

5250

0.59

1.14

0.47

3.25

1.02

1.23

7/16

5000

7000

0.66

1.18

0.56

3.70

1.03

2.10

1/2

6500

9000

0.75

1.42

0.63

4.00

1.38

2.85
Goat horns hoist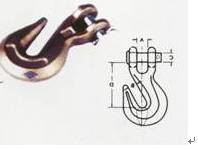 specification

Rated load

A

B

C

D

Weight

H-331

A-331

in

in

in

in

Lbc/pc

1/4

2600

3600

0.36

0.94

0.40

1.97

0.40

5/16

3900

5400

0.40

1.06

0.44

2.26

0.79

3/8

5400

7500

0.48

1.31

0.47

2.63

1.00

7/16

7200

10000

0.66

1.56

0.56

2.75

1.50

1/2

9200

12750

0.75

1.69

0.63

3.19

2.10

5/8

12750

19000

0.91

2.00

0.75

4.09

4.20

3/4

16500

27000

0.94

2.50

0.88

4.63

6.50
Goat horns slide hook with forged tongue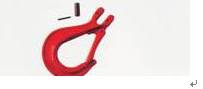 | | | | |
| --- | --- | --- | --- |
| specification | Weight(kg) | wllT | Breaking load T |
| 7/8-8 | 0.52 | 2 | 8 |
| 10-8 | 0.96 | 3.2 | 12.8 |
| 13-8 | 1.90 | 5.4 | 21.6 |
eye slip hook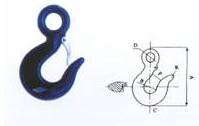 | | | | | | | | |
| --- | --- | --- | --- | --- | --- | --- | --- |
| Workingload limit | A | B | C | D | E | F | R |
| ton | mm | mm | mm | mm | mm | mm | mm |
| 0.5 | 120 | 40 | 10 | 28 | 16.0 | 22.0 | 8 |
| 1 | 155 | 48 | 16 | 37 | 22.40 | 31.5 | 9.2 |
| 2 | 170 | 60 | 25 | 37 | 25.0 | 32.0 | 11 |
| 3 | 230 | 78 | 32 | 55 | 35 | 42.5 | 14 |
| 5 | 270 | 92 | 40 | 60 | 42 | 50.0 | 20 |
| 8 | 298 | 98 | 40 | 65 | 46 | 55.0 | 20 |
| 10 | 330 | 110 | 45 | 77 | 52 | 63 | 22 |
| 15 | 460 | 160 | 70 | 115 | 110 | 80 | 40 |
| 37 | 630 | 210 | 110 | 140 | 110 | 95 | 35 |
S hook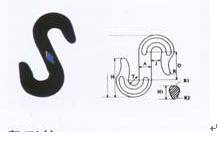 | | | | | | | | | | | | |
| --- | --- | --- | --- | --- | --- | --- | --- | --- | --- | --- | --- |
| Rated load | T | A | B | D | J | R | R1 | R2 | H | H1 | Weight |
| ton | mm | mm | mm | mm | mm | mm | mm | mm | mm | mm | Kg/pc |
| 1 | 25 | 25 | 166 | 75 | 24 | 7 | 11 | 6 | 97 | 33 | 1 |
| 2 | 28 | 28 | 175 | 80 | 26 | 8 | 12 | 7 | 106 | 33.5 | 1.5 |
| 3 | 30 | 30 | 183 | 80 | 30 | 9 | 13 | 8 | 117 | 36.5 | 2 |
| 5 | 44 | 44 | 243 | 100 | 38 | 12 | 16.5 | 10 | 158 | 49.5 | 4.5 |
| 180 | 60 | 60 | 311 | 125 | 55 | 17 | 20 | 12 | 196 | 63 | 8 |
| 10 | 75 | 75 | 361 | 150 | 70 | 18 | 21 | 12.5 | 240 | 68 | 12 |

nose-shaped hook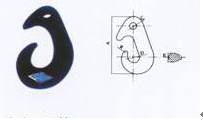 | | | | | | | |
| --- | --- | --- | --- | --- | --- | --- |
| Rated load | A | B | C | D | E | R |
| ton | mm | mm | mm | mm | mm | mm |
| 1 | 170 | 21 | 21 | 34 | 22 | 6 |
| 2 | 208 | 25 | 25 | 40 | 30 | 8 |
| 3 | 253 | 31 | 31 | 60 | 35 | 10 |
| 5 | 303 | 38 | 38 | 70 | 45 | 13 |
straight shank hook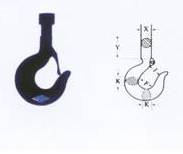 | | | | | | | |
| --- | --- | --- | --- | --- | --- | --- |
| Rated load | X | K | F | J | Y | G |
| ton | mm | mm | mm | mm | mm | mm |
| 2 | 42.4 | 26 | 10 | 33 | 108 | 40 |
| 3 | 58.8 | 40 | 16 | 50 | 307.5 | 62 |
| 5 | 60 | 54 | 25 | 65 | 371.8 | 82 |
| 10 | 72.6 | 74 | 32 | 90 | 430 | 115 |
| 15 | 121 | 90 | 40 | 115 | 530 | 142 |
| 20 | 134 | 102 | 40 | 130 | 540 | 164 |
| 30 | 158 | 130 | 45 | 160 | 710 | 205 |
| 50 | 210 | 165 | 70 | 205 | 825 | 260 |
| 80 | - | 200 | 110 | 250 | - | 300 |


American cargo hook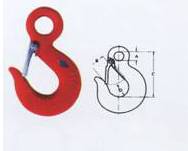 Rated load

A
in

B
in

C
in

D
in

E
in

Weight
lbs/pc

320c

320A

0.5

0.75

0.63

0.87

2.08

0.81

0.65

0.35

0.75

1

0.75

0.94

3.22

0.88

0.81

0.55

1

1.5

0.91

1.03

3.66

0.97

0.81

0.75

1.5

2

1.12

1.06

4.09

1.00

0.84

1.25

2

3

1.25

1.22

4.69

1.12

1.19

1.70

3

4.5

1.56

1.50

5.78

1.34

1.38

3.60

5

7

2.00

1.88

7.38

1.69

1.78

7.08

7.5

11

2.44

2.06

9.06

2.06

2.12

13.00

10

15

2.84

3.25

10.19

2.27

2.62

21.60

eye-shaped slip hook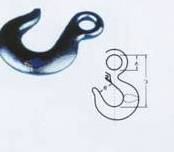 Diameter of chain
in

Rated load

A
in

B
in

C
in

Weight
Lbs/pc

H-324

A-324

1/4

1950

2750

0.50

0.94

2.56

0.40

5/16

2875

4300

0.63

1.06

2.95

0.70

3/8

4000

5200

0.72

1.31

3.36

1.00

7/16

5000

7000

0.81

1.56

3.88

1.60

1/2

6500

9000

0.94

1.69

4.28

2.40

5/8

9250

13500

1.13

2.00

5.22

4.00

3/4

12500

19250

1.38

2.13

5.80

6.50


eye-shaped slip hook ( with insurance card)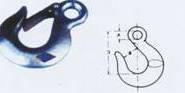 Diameter of chain
In

Rated load

A
in

B
in

C
in

D
in

Weight
Lbs/pc

carbon

alloy

1/4

1950

2750

0.50

0.75

2.56

0.79

0.42

5/16

2875

4300

0.63

0.88

2.95

0.79

0.72

3/8

4000

5200

0.72

1.10

3.36

1.02

1.03

7/16

5000

7000

0.81

1.25

3.88

1.06

1.04

1/2

6500

9000

0.94

1.38

4.28

1.30

2.45
eye-shaped hook
| | | | |
| --- | --- | --- | --- |
| specification | Weight(kg) | Wll(T) | Breaking load (T) |
| 3.2T | 1.25 | 3.2 | 12.8 |

swiveling hook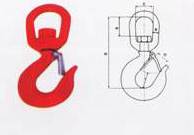 Working load limit

Structure and size

Weight

322C

322A

B

C

O

R

S

T

(kg)

0.75

1

23.81

31.75

22.23

127.9

9.53

20.64

0.77

1

1.5

33.34

38.1

24.61

134.14

12.7

20.64

1.27

1.5

2

41.27

44.45

25.4

152.8

15.88

21.43

2.28

2

3

36.69

44.45

28.58

161.925

15.88

31.16

2.60

3

4.5

44.45

50.8

34.13

188.12

19.05

34.93

4.81

5

7

58.74

53.5

42.86

243.68

25.4

45.24

10.40

7.5

11

60.33

69.85

52.39

382.575

28.58

53.98

16.42

10

15

71.44

79.38

37.15

303.21

31.75

63.5

23.40
curved hole hook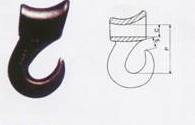 Specification

Structure and size (mm)

Rated load(kg)

Weight(kg)

C

E

P

0.375

16

16

65.79

1100

0.77

0.5

19.05

19.81

78.49

1500

1.19

0.625

19.05

23.88

98.55

2300

2.89

0.75

25.4

29.46

115.82

3600

2.95
ring screw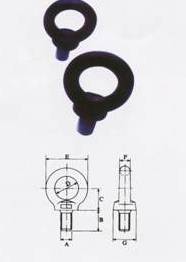 long rings (welding )
| | | | | | |
| --- | --- | --- | --- | --- | --- |
| Rated load | Test load | d | A | B | weight |
| ton | tTon | mm | mm | mm | Kg/pc |
| 1 | 2 | Φ14 | 80 | 144 | 0.51 |
| 2 | 4 | Φ18 | 80 | 144 | 0.8 |
| 3 | 6 | Φ22 | 80 | 144 | 1.33 |
| 5 | 10 | Φ26 | 100 | 180 | 2.20 |
| 8 | 16 | Φ32 | 120 | 216 | 4.20 |
| 10 | 20 | Φ35 | 120 | 216 | 5.10 |
| 12 | 22 | Φ38 | 140 | 252 | 7.00 |
| 16 | 37 | Φ42 | 160 | 288 | 9.70 |
| 20 | 32 | Φ45 | 160 | 288 | 11.20 |
| 25 | 44 | Φ52 | 180 | 324 | 16.90 |
| 30 | 45 | Φ55 | 200 | 360 | 21.00 |
| 40 | 60 | Φ60 | 200 | 360 | 25.00 |
| 50 | 75 | Φ67 | 220 | 396 | 34.50 |
| 63 | 94 | Φ72 | 220 | 396 | 40.50 |
| 80 | 120 | Φ82 | 240 | 430 | 55.00 |
| 100 | 150 | Φ90 | 250 | 430 | 69.50 |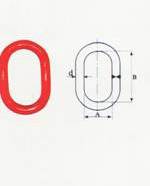 long load ( forged )
| | | | | | | |
| --- | --- | --- | --- | --- | --- | --- |
| size | Weight/kg | WLL/T | BL/T | L | W | D |
| (1/2) | 0.89 | 2.2 | 11 | 127 | 63.5 | 14 |
| (5/8) | 1.63 | 3 | 15 | 152 | 76 | 16 |
| (3/4) | 2.25 | 4.7 | 23.5 | 410 | 70 | 20 |
| 1 | 5 | 11 | 55 | 178 | 95 | 22 |
| 1(1/4) | 9.75 | 16 | 80 | 222 | 111 | 32 |
| 1(1/2) | 17.12 | 21.7 | 108.5 | 267 | 133.5 | 38 |
| 1(3/4) | 11.5 | 28.4 | 142 | 304.8 | 152.4 | 45 |
| 2 | 16.5 | 44.3 | 221.5 | 355.6 | 177.8 | 50.8 |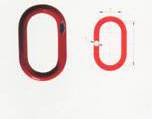 sling set
Size
(in)

Working load
Limited(lbs.)

Dimensions(in)

A

B

C

D

E

F

(3/4)

9100

0.75

2.75

5.5

0.47

0.91

1.66

1

18400

6.1

3.5

7

0.66

1.25

2.31

(1-1/4)

31200

13.2

4.38

8.75

0.91

1.72

3.19

(1-1/2)

47000

24.2

5.25

10.5

1.19

2.31

4.25

(1-3/4)

73500

35.6

6

12

1.31

2.56

4.69

2

88900

57.3

7

14

1.44

2.75

5.12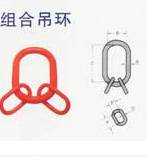 pear-shaped ring
| | | | | | |
| --- | --- | --- | --- | --- | --- |
| Rated load | R | r | d | L | weight |
| ton | mm | mm | mm | mm | Kg/pc |
| 3 | 60 | 20 | 20 | 85 | 1.24 |
| 5 | 65 | 25 | 30 | 93 | 3.22 |
| 8 | 75 | 30 | 33 | 100 | 4.39 |
| 10 | 80 | 50 | 38 | 146 | 7.35 |
| 16 | 80 | 50 | 45 | 146 | 10.59 |

round rings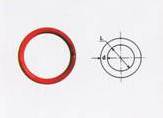 | | | | |
| --- | --- | --- | --- |
| Rated load | R | L | Weight |
| ton | mm | mm | Kg/pc |
| 3 | 24 | 100 | 2.77 |
| 5 | 28 | 150 | 5.40 |
| 8 | 33 | 175 | 8.77 |
| 10 | 38 | 225 | 14.71 |
| 16 | 45 | 225 | 21.18 |
| 20 | 52 | 250 | 31.63 |
| 25 | 58 | 315 | 48.61 |
west Germany ringer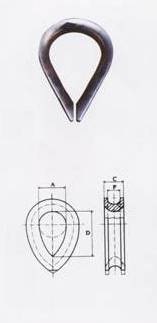 | | | | | | | | | |
| --- | --- | --- | --- | --- | --- | --- | --- | --- |
| type | F | C | A | B | L | D | E | weight |
| in | mm | mm | mm | mm | mm | mm | mm | Kg/100pcs |
| 8 | 8.6 | 14 | 20 | 40 | 56 | 5 | 20 | 8 |
| 10 | 10.8 | 17 | 25 | 50 | 70 | 5 | 20 | 17 |
| 12 | 12.9 | 21 | 30 | 60 | 84 | 5 | 20 | 32 |
| 14 | 15.1 | 24 | 35 | 70 | 98 | 5 | 20 | 50 |
| 16 | 17.2 | 28 | 40 | 80 | 112 | 5 | 20 | 78 |
| 18 | 19.4 | 31 | 45 | 90 | 126 | 5 | 20 | 114 |
| 20 | 21.5 | 35 | 50 | 100 | 140 | 10 | 30 | 141 |
| 22 | 23.7 | 38 | 55 | 110 | 154 | 10 | 30 | 196 |
| 24 | 25.8 | 42 | 60 | 120 | 168 | 10 | 30 | 241 |
| 26 | 28.0 | 45 | 65 | 130 | 182 | 10 | 30 | 346 |
| 28 | 30.1 | 49 | 70 | 140 | 196 | 10 | 30 | 430 |
| 30 | 34.4 | 56 | 80 | 160 | 224 | 10 | 30 | 646 |
| 36 | 38.7 | 63 | 90 | 180 | 252 | 10 | 30 | 977 |
| 40 | 43.0 | 70 | 100 | 200 | 280 | 10 | 30 | 1294 |
| 44 | 47.3 | 77 | 110 | 220 | 308 | 15 | 45 | 1702 |
| 48 | 51.6 | 84 | 120 | 240 | 336 | 15 | 45 | 2275 |
| 50 | 55.9 | 91 | 130 | 260 | 364 | 15 | 45 | 2841 |
| 56 | 60.2 | 98 | 140 | 280 | 392 | 15 | 45 | 3556 |
| 60 | 64.5 | 105 | 150 | 300 | 420 | 15 | 45 | 4835 |
heavy ringer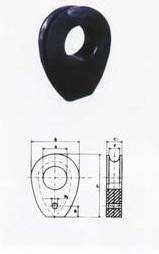 rope wedge connector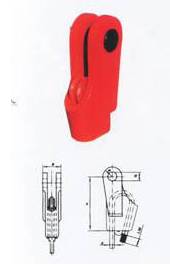 nominal metric size of
wedge-shaped joints
(mm)

Rated load
KN

Breaking load
KN

B
mm

D
(H10)
mm

A
mm

R
mm

Opening
pin

Weight
Kg/pc

6

10

43

29

16

90

16

2×20

0.56

83

10

51

31

18

100

25

2×20

0.77

10

15

71

38

20

120

25

2×25

1.01

12

20

100

44

25

155

30

2×25

1.70

14

25

118.5

51

30

185

35

2×25

2.34

16

30

161.3

60

34

195

42

3×30

3.27

18

35

184.0

64

36

195

44

3×30

4.00

20

50

249.6

72

38

220

50

3×30

5.45

22

55

285.3

76

40

240

52

4×50

6.37

24

65

327.0

83

50

260

60

4×50

8.32

26

75

373.6

92

55

280

65

4×50

10.16

28

95

487.6

97

55

305

70

4×50

13.94

32

120

600

110

65

360

77

5×60

17.94

36

155

780

122

70

390

85

5×60

23.03

40

200

984

145

75

470

90

5×60

32.35
chain connector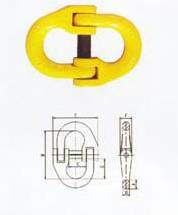 Art.no

Suitable chain

A

B

C

D

E

F

G

Self-weight

t

mm

mm

mm

mm

mm

mm

mm

kg

HDH6

6

9

48

21

7

50

12

20.5

0.09

HDH8

8

11

58

21

9

54

14

24.5

0.17

HDH10

10

14

74

27

12

68

18

31.5

0.39

HDH12

12

17.5

94

37

13.5

88

20

41

0.64

HDH14

14

20

106

41

16

98

28

45.5

1.11

HDH16

16

23

114

45

18

110

30

48.5

1.55

HDH18

18

25

124

48

20

120

34

52.5

2.01

HDH20

20

28

131

50

23

130

36

55

2.67

HDH22

22

30

138

53

25

140

41

57.5

3.58

HDH24

24

33

150

59

27

152

45

62.5

4.70

HDH26

26

37

166

63

30

51

47

70

5.76

HDH30

30

40

180

65

33

170

50

7605

6.84

HDH34

34

42

190

73

34

206

54

80

8.74
chain adjuster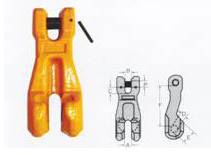 Working load limit

Chain size

figure dimensions(mm)

T

mm

A、B

C

D

E

F

1.1

6

6.7

8

7

11

45

2

7.8

8.7

10

9

16

62

3.2

10

12.5

14

12

25

87

5.4

13

16.5

17

15

32

115

8

16

20.5

19

19

39

143

12.5

18、20

21.5

23

22

46

152
casted joint (closed )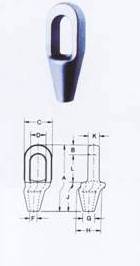 | | | | | | | | | | | | |
| --- | --- | --- | --- | --- | --- | --- | --- | --- | --- | --- | --- |
| rope diameter | A | B | C | D | F | G | H | J | K | L | B |
| In | mm | mm | mm | mm | mm | mm | mm | mm | mm | mm | mm |
| 1/4 | 114 | 13 | 40 | 22 | 10 | 18 | 40 | 57 | 13 | 44 | 0.23 |
| 5/16-3/8 | 124 | 16 | 43 | 25 | 13 | 21 | 43 | 57 | 18 | 51 | 0.34 |
| 7/16-1/2 | 138 | 18 | 51 | 30 | 15 | 24 | 51 | 63 | 22 | 57 | 0.68 |
| 9/16-5/8 | 160 | 21 | 67 | 36 | 18 | 28 | 67 | 76 | 25 | 63 | 1.13 |
| 3/4 | 193 | 27 | 76 | 42 | 21 | 32 | 76 | 90 | 32 | 76 | 1.90 |
| 7/8 | 223 | 32 | 92 | 48 | 24 | 38 | 92 | 102 | 38 | 89 | 3.30 |
| 1 | 250 | 35 | 105 | 58 | 29 | 44 | 105 | 113 | 44 | 102 | 4.80 |
| 11/8 | 279 | 38 | 114 | 65 | 32 | 51 | 114 | 127 | 51 | 114 | 6.50 |
| 11/4-13/8 | 308 | 41 | 135 | 71 | 38 | 57 | 135 | 140 | 57 | 127 | 9.00 |
| 11/2 | 354 | 50 | 135 | 81 | 41 | 70 | 135 | 152 | 64 | 152 | 13.30 |
| 15/8 | 384 | 54 | 146 | 83 | 44 | 76 | 146 | 165 | 70 | 165 | 16.30 |
| 13/4-17/8 | 439 | 56 | 171 | 95 | 51 | 80 | 171 | 191 | 76 | 192 | 26.00 |
| 2-21/8 | 495 | 62 | 194 | 111 | 57 | 95 | 194 | 216 | 83 | 217 | 35.80 |
| 21/4-23-8 | 537 | 67 | 216 | 127 | 64 | 102 | 216 | 229 | 92 | 241 | 47.60 |
| 21/2-25-8 | 597 | 79 | 241 | 140 | 73 | 114 | 241 | 248 | 102 | 270 | 63.50 |
| 23/4-27/8 | 644 | 79 | 273 | 159 | 79 | 124 | 273 | 279 | 124 | 286 | 99.80 |
| 3-31/8 | 686 | 83 | 292 | 171 | 86 | 133 | 292 | 305 | 133 | 298 | 125.20 |
| 31/4-33/8 | 743 | 102 | 311 | 184 | 92 | 146 | 311 | 330 | 146 | 311 | 142.00 |
| 31/2-35/8 | 788 | 102 | 330 | 197 | 99 | 165 | 330 | 356 | 159 | 330 | 181.40 |
| 33/4-4 | 845 | 108 | 362 | 216 | 108 | 184 | 362 | 381 | 178 | 356 | 245.90 |
casted joint (open )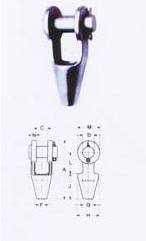 | | | | | | | | | | | | |
| --- | --- | --- | --- | --- | --- | --- | --- | --- | --- | --- | --- |
| rope diameter | A | B | C | D | G | H | J | L | M | N | B |
| In | mm | mm | mm | mm | mm | mm | mm | mm | mm | mm | mm |
| 1/4 | 116 | 23 | 17 | 10 | 18 | 41 | 57 | 40 | 33 | 9 | 0.50 |
| 5/16-3/8 | 123 | 21 | 21 | 13 | 21 | 43 | 57 | 44 | 38 | 11 | 0.60 |
| 7/16-1/2 | 142 | 25 | 25 | 15 | 24 | 51 | 64 | 51 | 48 | 13 | 1.00 |
| 9/16-5/8 | 172 | 32 | 30 | 18 | 28 | 60 | 76 | 64 | 57 | 14 | 1.60 |
| 3/4 | 202 | 38 | 35 | 21 | 32 | 70 | 89 | 76 | 67 | 16 | 2.60 |
| 7/8 | 235 | 44 | 41 | 24 | 38 | 84 | 102 | 89 | 80 | 20 | 4.40 |
| 1 | 269 | 51 | 51 | 29 | 44 | 95 | 114 | 102 | 95 | 22 | 7.00 |
| 11/8 | 303 | 57 | 57 | 32 | 51 | 107 | 127 | 117 | 105 | 25 | 9.80 |
| 11/4-13/8 | 335 | 64 | 64 | 38 | 57 | 122 | 140 | 127 | 121 | 29 | 14.10 |
| 11/2 | 384 | 76 | 70 | 41 | 70 | 136 | 152 | 152 | 137 | 30 | 21.40 |
| 15/8 | 412 | 76 | 76 | 44 | 76 | 142 | 165 | 165 | 146 | 33 | 25.00 |
| 13/4-17/8 | 464 | 89 | 89 | 51 | 80 | 169 | 191 | 178 | 165 | 40 | 37.20 |
| 2-21/8 | 545 | 102 | 95 | 57 | 95 | 194 | 228 | 228 | 178 | 46 | 58.50 |
| 21/4-23-8 | 606 | 114 | 108 | 64 | 102 | 222 | 254 | 254 | 197 | 54 | 75.80 |
| 21/2-25-8 | 654 | 127 | 121 | 73 | 114 | 247 | 273 | 173 | 215 | 60 | 114.30 |
| 23/4-27/8 | 692 | 133 | 127 | 79 | 124 | 279 | 279 | 279 | 229 | 73 | 142.90 |
| 3-31/8 | 737 | 146 | 133 | 86 | 133 | 298 | 305 | 286 | 241 | 76 | 172.40 |
| 31/4-33/8 | 784 | 159 | 140 | 92 | 146 | 317 | 328 | 298 | 254 | 79 | 196.90 |
| 31/2-35/8 | 845 | 172 | 152 | 99 | 165 | 338 | 360 | 318 | 273 | 83 | 255.40 |
| 33/4-4 | 921 | 191 | 178 | 108 | 184 | 369 | 389 | 343 | 318 | 89 | 355.20 |
wire rope clip(A)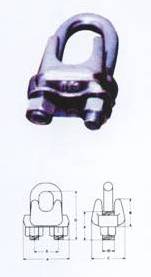 | | | | | | | | | |
| --- | --- | --- | --- | --- | --- | --- | --- | --- |
| type | A | B | C | D | E | F | G | weight |
| mm | mm | mm | mm | mm | mm | mm | mm | Kg/100pcs |
| 6 | 22.5 | 14 | 17 | 5 | 14 | 14 | 24.8 | 2.5 |
| 8 | 28 | 17 | 21 | 6 | 15 | 16 | 30.7 | 4.5 |
| 10 | 38 | 21 | 28 | 8 | 19 | 20 | 38.0 | 9.0 |
| 12 | 45 | 27 | 34 | 10 | 24 | 25 | 47.6 | 18 |
| 15 | 52 | 32 | 40 | 12 | 29 | 30 | 57.2 | 28 |
| 20 | 62 | 38 | 46.5 | 14 | 36 | 36 | 71.7 | 48 |
| 22 | 69 | 43 | 51.5 | 16 | 40 | 39 | 78.7 | 62 |
| 25 | 76 | 50 | 56 | 18 | 43 | 44 | 90.4 | 85 |
| 28 | 85 | 57 | 62 | 20 | 48 | 48 | 96.9 | 120 |
| 32 | 93 | 61 | 67 | 22 | 55 | 51 | 110.4 | 156 |
| 40 | 111 | 73 | 81 | 24 | 64 | 62 | 122.5 | 262 |
| 45 | 123 | 86 | 88 | 27 | 72 | 70 | 139.5 | 360 |
| 50 | 135 | 95 | 95 | 30 | 80 | 88 | 156.0 | 480 |
wire rope clip
| | | | | | | |
| --- | --- | --- | --- | --- | --- | --- |
| Type | A | B | C | D | E | weight |
| mm | mm | mm | mm | mm | mm | Kg/100pcs |
| 6 | 14 | 35 | 8 | M6 | 5 | 4 |
| 8 | 18 | 44 | 10 | M8 | 6 | 8 |
| 10 | 22 | 55 | 13 | M10 | 8 | 18 |
| 12 | 28 | 69 | 16 | M12 | 10 | 26 |
| 15 | 33 | 83 | 19 | M14 | 11 | 36 |
| 20 | 39 | 96 | 22 | M16 | 13 | 50 |
| 22 | 44 | 108 | 24 | M18 | 14 | 70 |
| 25 | 49 | 122 | 27 | M20 | 16 | 120 |
| 28 | 55 | 137 | 31 | M22 | 18 | 150 |
| 32 | 60 | 149 | 33 | M24 | 19 | 210 |
| 40 | 67 | 164 | 35 | M26 | 19 | 260 |
| 45 | 78 | 188 | 40 | M28 | 22 | 420 |
| 50 | 88 | 210 | 44 | M30 | 24 | 560 |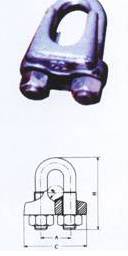 Turnbuckle


turnbuckle
(USA.OO)

turnbuckle
(USA. CO)

turnbuckle
(USA.UU)

turnbuckle
(USA .OU)

TYPE

Rated load

weight

TYPE

Rated load

weight

TYPE

Rated load

weight

TYPE

Rated load

weight

In

Kg

Kg

In

Kg

Kg

In

Kg

Kg

In

Kg

Kg

5/8×6

1587.58

1.28

5/8×6

1020.58

1.22

5/8×9

1587.58

1.56

5/8×9

1587.58

1.56

5/8×9

1587.58

1.49

5/8×9

1020.58

1.41

5/8×12

1587.58

1.77

5/8×12

1587.58

1.77

5/8×12

1587.58

1.55

5/8×12

1020.58

1.71

3/4×6

2358.68

1.86

3/4×6

2358.68

1.86

3/4×6

2358.68

1.72

3/4×6

1360.77

1.76

3/4×9

2358.68

2.48

3/4×9

2358.68

2.48

3/4×9

2358.68

2.09

3/4×9

1360.77

2.09

3/4×12

2358.68

2.92

3/4×12

2358.68

2.92

3/4×12

2358.68

2.49

3/4×12

1360.77

2.64

3/4×18

2358.68

3.66

3/4×18

2358.68

3.66

3/4×18

2358.68

3.26

3/4×18

1360.77

2.87

7/8×12

3265.87

3.71

7/8×12

3265.87

3.71

7/8×12

3265.87

3.27

7/8×12

1814.37

3.67

7/8×18

3265.87

4.89

7/8×18

3265.87

4.89

7/8×18

3265.87

4.51

7/8×18

1814.37

4.51

1×6

4535.92

4.62

1×6

4535.92

4.62

1×6

4535.92

4.10

1×6

2267.96

4.23

1×12

4535.92

5.68

1×12

4535.92

5.68

1×12

4535.92

5.21

1×12

2267.96

5.41

1×18

4535.92

6.87

1×18

4535.92

6.87

1×18

4535.92

6.35

1×18

2267.96

6.35

1×24

4535.92

8.20

1×24

4535.92

8.20

1×24

4535.92

7.82

1×24

2267.96

7.82

11/4×12

6894.61

9.34

11/4×12

6894.61

9.34

11/4×12

6894.61

9.62

11/4×12

2948.35

8.61

11/4×18

6894.61

11.19

11/4×18

6894.61

11.19

11/4×18

6894.61

10.43

11/4×18

2948.35

10.43

11/4×24

6894.61

12.29

11/4×24

6894.61

12.29

11/4×24

6894.61

12.25

11/4×24

2948.35

10.88
special type turnbuckle


Moving pads
Apply to steel wire rope sling , chain rigging sling , soft sling , flat sling , rope and other lifting
equipment .
Effectively reduced the friction between the objects and sling
Effectively protected the lifting objects and extended the life of the lifting sling.
Automatic adsorption device attached to the object edges and corners when lifting iron , convent in using.
product pictures

wire rope pads

lifting belt pads